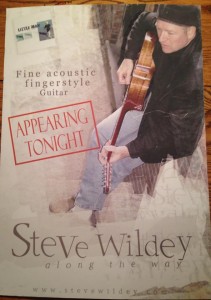 For those who were not aware, I wanted to let you know that Steve Wildey, a beloved member of our South Florida music community, passed away last week (on Saturday, March 7th) at the age of 55 after a very long and valiant struggle. I had previously announced that there was a special fund set up to try to raise funds for his desperately needed lung transplant. (More on that below.) Much of the information that was forthcoming over these past few weeks, I heard about via Facebook and other email lists. I did not realize until last night, when I was at a house concert, that the announcement (and information about memorial service, etc.) never went out on the sf_folk list. So I am sharing it here for those who would want to know.
Steve was one of the finest fingerstyle guitarists I have ever heard, and one of the nicest guys you would ever want to meet. Although he hasn't been around much over the past year or so due to serious health issues, many of you knew him. In 2005 (the last year we did a large festival in Easterlin Park), he was the winner of the South Florida Folk Festival's fingerstyle guitar competition. He had several outstanding CD's. He had a music shop in Hollywood, Glades Guitars, where he ran a wonderful concert series, sold incredible high-end guitars, repaired instruments, and taught. I know many people who took lessons from him and said he was an incredible teacher. He was well known at all of the guitar festivals (Healdsburg, Newport, Montreal, etc.) doing demos for Blanchard Guitars, Woolson, and other luthiers. He has been a featured artist at the Broward Folk Club's monthly concert series, and he has performed at least twice at my house concert series, literally to a sellout "standing room only" crowd. And he was a friend.
"Losing You"… by Steve Wildey: https://www.youtube.com/watch?v=Eega7ZhqzLc (Lots of Steve's music and music lessons are available on Youtube.)
Despite serious health problems, I don't think I ever saw Steve without a smile on his face. His optimistic view of life, warm smile, and beautiful music could uplift any spirit… he knew how to live life to the fullest. Over the past decade, he underwent two bone marrow transplants for blood cancer. Although his cancer did go into remission, unfortunately the anti-rejection medications he took caused Bronchial Obliterans Disease… a disease that a certain percentage of transplant patients get which destroys the lungs. Steve struggled to breathe this past year. Several weeks ago, he was airlifted to Duke University Medical Center with hopes of getting a desperately needed lung transplant. Unfortunately, his disease had progressed too far and he was not eligible.
Prior to his death, a "Go Fund Me" account had been set up to raise money for Steve's medical expenses (information here about both the fund and Steve's final weeks): http://www.gofundme.com/Steves-lungs Steve worked closely with the Lung Transplant Foundation, and although he ended up not being able to get new lungs, he hoped that any leftover funds in that account could go to that organization to support research into the disease that ultimately killed him. At his request, a research fund has been set up, and his wife and family have requested that donations in his memory go directly to the Steve Wildey Lung Research Fund: http://lungtransplantfoundation.org/stevewildeyresearchfund/
CONCERT TONIGHT IN STEVE'S MEMORY
Tonight, Saturday, March 14th at 8pm, fingerstyle guitarist Tim Farrell will be doing a special concert in memory of Steve. The concert will be held at:
South Florida Center for Percussive Arts
12600 SW 130th Street – Unit 9-10
Miami, FL
Suggested Donation: $25
Part of the Proceeds will go directly to the Steve Wildey Lung Research Fund
Seating is limited, RSVP required
RSVP to Rosa Douglass at dragonsingerrosa@gmail.com or call (305) 753-3755
Facebook information on this concert: https://www.facebook.com/events/670563683067046/
Tim Farrell and Steve performed together at my concert series back in 2011. Here is a photo from that concert: https://www.facebook.com/BoumelHouseConcerts/photos/a.211618495536922.56597.211594915539280/311887628843341/?type=3&theater
Tim is a wonderful guitarist and it should be a great concert.
MASS IN MEMORY OF STEVE
Steve's wife, Yohana, announced the following on Facebook:
Friends and family in memory of steve there will be a mass next tuesday, march 17 at 6:00 pm in St. Kieran catholic church.
Friends and family please join honoring Steve at St. Kieran catholic church next tuesday march 17th at 6PM.
3605 South Miami Avenue, Miami 33133
(786) 254-2543
I have no further details on this service than what is posted above… and I do not know if any other Memorial Service will be held, but if I hear of anything, I will post it here.
I am sorry to lose yet another good friend, but I know that Steve is breathing a lot easier now… and he will be remembered and missed.
Best,
Arlene Boumel
Corresponding Secretary/Immediate Past President – Broward Folk Club
Music Director – 2015 South Florida Folk Festival
Presenter – Boumel House Concerts, Coral Springs, FL