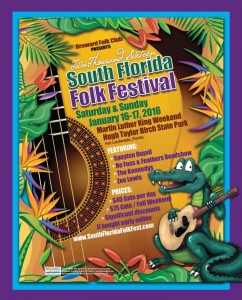 Announcing… the 2016 South Florida Folk Festival. Save the dates (MLK weekend, January 16-17, 2016) and join us for this fantastic annual event. Headlining The Kennedys, No Fuss And Feathers Roadshow, Spuyten Duyvil, and Zoë Lewis…. plus over 35 other fantastic artists, singer-songwriter competition, workshops, jams led by artists, evening campfires, raffles, CD sales, great food and crafts vendors. Tickets available now (discounted if purchased in advance). See you there!  Details below:
2016 SOUTH FLORIDA FOLK FESTIVAL
Saturday, January 16 and Sunday, January 17, 2016
11:30 am to 8:15 pm Saturday
12:00 noon to 8:15 pm Sunday
(Campfires both nights after 8:15 pm)
Hugh Taylor Birch State Park, Fort Lauderdale
Welcome to the 2016 South Florida Folk Festival. The South Florida Folk Festival, presented by the Broward Folk Club, is a 2-day Festival in a pristine park setting, Since its inception in 1992, the Festival has been a combination of a music fest, family reunion, community gathering, and weekend musical retreat. Last year's event in Hugh Taylor Birch State Park was a huge success, and we are thrilled to bring the Festival back again for 2016.
HEADLINERS
The Kennedys – www.kennedysmusic.com (New York, NY)
No Fuss and Feathers Roadshow – www.nofussandfeathersroadshow.com (New York, NY)
Spuyten Duyvil – www.spuytenduyvilmusic.com (Yonkers, NY)
Zoe Lewis – www.zoelewis.com (Provincetown, MA)
PERFORMING ARTISTS
Stay tuned… to be announced shortly
SINGER-SONGWRITER COMPETITION FINALISTS
Stay tuned… to be announced shortly
THIS YEAR'S FESTIVAL
We welcome music loving fans to experience and enjoy great acoustic music performed by exceptional Florida-based and national touring musicians. The Festival is a celebration of many unique folk traditions. The Festival will feature:
• Over 45 musicians performing on two stages
• Songwriting Competition
• Workshops led by performers
• Jam area hosted by performers, for those who enjoy playing
• Food and Crafts Vendors
• CD Sales
• Raffles
To purchase tickets:  http://www.southfloridafolkfest.net/SFFF/Tickets.html
Significant discounts for tickets purchased in advance, and for Broward Folk Club Members.
At the gate prices:
$40 per day
$75 full weekend
SFFF is alive and thriving, and we will see you in January.